At Kestrel Mead Primary Academy we work hard to ensure all children to reach their full potential. We aim to promote positive attendance and learning habits in order for all children to maximise their achievements both academically and personally.
We know that pupils with good attendance:
Achieve better
Feel happier
Gain confidence
Find it easier to make and keep friends
Key Attendance Information
The following documents are designed to help parents understand more about school attendance. Included in the documents below is information about attendance and absence, late marks, illness and term-time holidays. Please do not hesitate to contact us if you need any more information or have a specific query.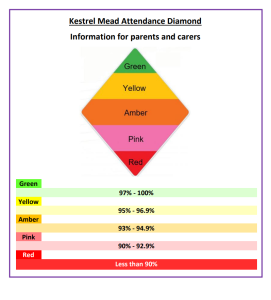 Kestrel Mead Attendance Leaflet For Parents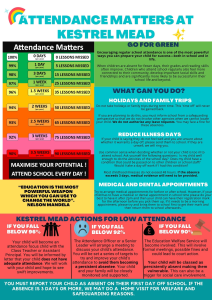 Attendance Diamond
We use the attendance diamond (below) to measure the attendance of individual children and their classes.
Attendance Rewards at Kestrel Mead
We reward children in a number of ways. They are detailed in the above attendance leaflet. We regularly celebrate good attendance in a number of ways across the school.
This year we have introduced some really exciting attendance incentives which have rewarded children for excellent and improved attendance. These have included:
Class trips to Twinlakes Adventure Park
£50 family restaurant vouchers
Summer term raffle for local family activities such as bowling, cinema, trampolining, laser quest
Weekly stickers for 100%
Half termly prize for all pupils with 100% (pencils, wristbands)
Whole term rewards for 100% pupils – pizza party, school disco, inflatables fun afternoon
We want all of our pupils in school, on time, every day for a chance to win a great prize!